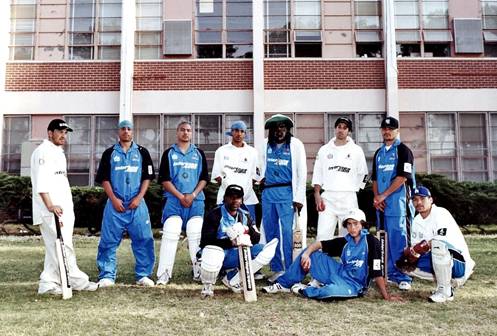 HOWZAT FROM THE HOOD: All-American Cricket Team to tour Australia
Australian Consul General to help launch
Compton Cricket Club's tour Down Under
· Press Conference and Cricket demo
· Monday, January 24,
· South Lawn of L.A. City Hall
Where: 200 N Spring St, Los Angeles, CA 90012
Who: Australian Consul General Chris De Cure
Deputy Consul General Graeme Fay
The COMPTON CRICKET CLUB XI
From the mean streets of Compton to the best cricket clubs of Australia, the world's most improbable cricket team will begin their tour January 29.
The first All-American Cricket Team, comprised of African American and Latino youth, was formed to provide an alternative to gang activities that ruled their neighborhoods. Compton's Homies and the Popz have been playing cricket for 15 years and credit the sport with their salvation.
Now for the first time, they will take part in a cricket exhibition-promotional tour in Australia and help raise funds for local charities, especially the Queensland Flood crisis. http://www.youtube.com/watch?v=AW7QY7sMGRE
<![if !supportLineBreakNewLine]>
<![endif]>
This tour will be the first time in the history of both Australia and the USA, that an All-American team has toured Australia. This historic journey to Australia is designed to increase the efforts of the Compton Cricket Club as Ambassadors of Peace and Good will to fulfill its epic mission to end gang violence and all other violence around the world.
The tour is sponsored by Sydney-based Hugh Snelgrove, and will include play against comparably competitive Australian and indigenous teams in Sydney and Melbourne.
An exciting addition to the venture is Hip-Hop Cricket Rap, produced and performed by CLOTH, original team members Theo and Isaac Hayes. Hip-Hop Cricket Rap transfers Cricket language and culture into ghetto vernacular and style. For a sample, click here: http://www.youtube.com/watch?v=UKa2mp5ePes
###
Contacts:
Katy Haber: (213) 247-0282 katyhaber@aol.com/
Ted Hayes: (424) 222-6010: ted@tedhayes.us/
Theo and Isaac Hayes (CLOTH) (323) 481-9691: theethethird@gmail.com/
Emidio Cazarez Spanish Speaking Media contact:310 819 0800 junior307@sbcglobal.net
Australia: Hugh Snelgrove: comptoncricketclub@gmail.com 011 614 0605 7942